(UTV|COLOMBO) – Protests have erupted in Barcelona after Spain's Supreme Court sentenced nine Catalan separatist leaders to between nine and 13 years in prison.
The separatists were convicted of sedition over their role in an illegal independence referendum in 2017.
Another three were found guilty of disobedience and fined, but not jailed. All 12 defendants denied the charges.
Large crowds of pro-independence protesters clashed with police at Barcelona's international airport.
Footage showed people attempting to break through a police line blocking one area of the building, while in another, officers hit protesters with batons and attempted to disperse the crowds with gas.
A total of 108 flights were cancelled on Monday, the Spanish airport authority Aena said.
Thousands of Catalan independence supporters also marched in the city centre, blocking some streets and access to metro stations.
After the ruling, a new arrest warrant was issued for former Catalan President Carles Puigdemont, who is living abroad. Mr Puigdemont told a press conference that Catalonians were victims of a "strategy of repression and revenge".
What happened at the trial?
Some of the 12 leaders sentenced on Monday had held prominent positions in Catalonia's government and parliament, while others were influential activists and cultural advocates.
During four months of hearings, they told the court in Madrid that they were victims of an injustice in a trial built on "false" charges.
The longest sentence of 13 years was handed to Oriol Junqueras, the former vice-president of Catalonia and the highest-ranking pro-independence leader on trial, for sedition and misuse of public funds.
The prosecution had sought up to 25 years in prison for Junqueras.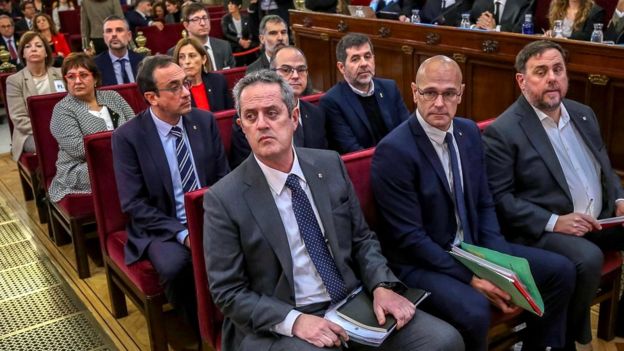 The new European and international arrest warrant against Mr Puigdemont was issued on grounds of sedition and misuse of public funds.
He fled to Belgium in October 2017 to avoid prosecution in Spain following the failed independence bid.
What has the reaction been?
Junqueras accused Spain of jailing people for their political ideals and pledged that the separatists would return even stronger.
But Spain's Prime Minister Pedro Sánchez insisted the leaders had been jailed for criminal conduct.
Mr Puigdemont said the sentences handed to separatist leaders of "100 years in total" were "an atrocity".
"Now more than ever… it is time to react like never before," he wrote on Twitter, adding: "For the future of our sons and daughters. For democracy. For Europe. For Catalonia."
Those on the street communicated feelings of anger and powerlessness.
"Today is going to be historic, you can feel it in the atmosphere. Serious things are happening, we can't stay home," Oscar Quiles, a 47-year-old real estate entrepreneur told AFP news agency.
"The indignation is just too much and affects too many people," another protester said. "What they don't realise is that we are very angry and we will not stop."

(Agencies)
[alert color="faebcc" icon="fa-commenting"]Keeping up to date with breaking news while you are on the move is now simple with UTV Alerts [textmarker color="8a6d3b"]Type REG UTV and send to 77000[/textmarker] on your Dialog, Airtel, or Hutch mobile connection[/alert]